English

Français

Deutsch

Español
MORINGA – The Miracle Tree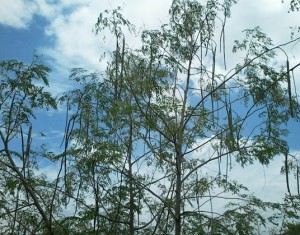 Moringa – miracle tree seems to be present in native parts of Africa and Asia. It is believed to be sole genus in the flowering plant family Moringaceae. Moringa name is known from murungai/muringa, the Tamil/Malayalam word for drumstick.
Miracle Tree
Moringa seems to be grown in the subtropical areas where malnutrition is most prevalent. Moringa olifera trees have rich source to combat malnutrition, especially among infants and nursing mothers.
English common names include:
Moringa
Drumstick tree(from the appearance of the long, slender, triangular seed-pods),
Horseradish tree (from the taste of the roots, which resembles horseradish),
Ben oil tree, or benzoil tree (from the oil which is extracted from the seeds).
Many parts of the moringa plant are edible.
Peoples around the world is eating fresh moringa leaves in may vary form. Moringa leaf powder is ideal source of vitamin B, vitamin C, vitamin K, manganese, protein, among other essential nutrients. The leaves are cooked and used like spinach.
Moringa seeds removed from mature moringa pods, which are eaten like peas or roasted like nuts, contain high levels of vitamin C and moderate amounts of B vitamins and dietary minerals.
The immature moringa seed pods, called "drumsticks", are commonly know in India and South Asia. Moringa pods possess good source of rich dietary fiber, potassium, magnesium, and manganese.
Mature moringa seeds kernels yield 30%–40% edible oil called as ben oil, which has high concentration of behenic acid. The refined moringa oil is clear and odorless, and resists rancidity. The moringa seed cake remaining after oil extraction may be used as an organic fertilizer or as a flocculent to purify water. Moringa seed oil has been used as a potential biofuel source.
Moringa Nutrition facts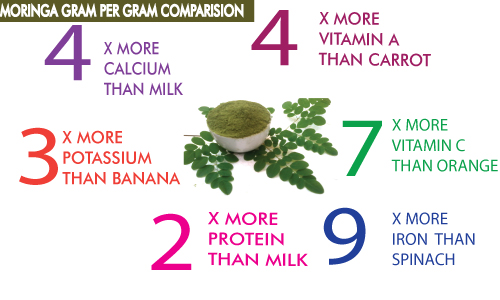 This statement has not been evaluated by the Food and Drug Administration. This product is not intended to diagnose, treat, cure, or prevent any disease.