Moringa oleifera seeds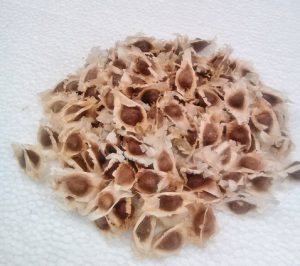 Moringa seeds are collected from matured moringa pod or fruit, which are edible for consumption. Moinga seeds pods are green in color. This is the good stage for human consumption.  Moringa pods become brown color pods. Older mature green pods begin to turn gray or light brown as the seeds are maturing inside the pod.
Moringa seed contain nearly 8% to 30% of moisture. This moisture level high in fresh seeds and days go moisture level will lower. Moringa seeds are dried under direct or indirect sunlight to reduce moisture level.
Organics PKM1 Moringa Seeds
We supply organic grade moringa pkm1 seeds.  Our moringa seeds are free from chemicals, and foreign bodies.
Moringa seeds health benefits
Moringa oleifera tree is called as a miracle tree, which is used widely in traditional medicine all over worlds.  Moringa seeds is curing several diseases. All parts of moringa tree is including moringa seeds, pods, flowers, leaves, which are rich storehouse of nutrients and antioxidants.
Improves sleep quality
Rich fiber source
Control Blood Glucose Levels
Regulate blood sugar Levels
Natural  source of Iron
Natural Remedies for Bone and Joint Pain
Lower cholesterol naturally
Support Death Of Cancer Cells
Heart-Healthy Foods
Powerhouse of Antioxidants
Boost Healthy Skin
 Manufacturers of moringa hybrid seeds
Our hybrid moringa seeds are collected from our own farm as well as contract moringa farming fields.  Our moringa seeds are collected and processed in hygienic condition.
Drumstick seeds suppliers

Other country name for moringa seeds
Moringa oleifera pods are called as drum sticks.  Moringa seeds also called as drum stick seeds.
Tagalog name in the Philippines
Kamunggay in Bisay
La Mu            Mandarin
Lat mok       Cantonese
Dandalun   Myanmar (Burma)
French
Bèn ailé, Benzolive, Moringa, Ben oléifère, Arbre radis du cheval
German Behenbaum, Behenussbaum, Flügelsaniger Bennussbaum, Pferderettichbaum
Italian Sàndalo ceruleo
Portuguese
Acácia branca, Cedra (Brazil), Marungo, Moringuiero, Muringa
Spanish
Árbol del ben, Ben, Morango, Moringa
CHINESE :


La mu.

CZECH : Moringa olejná.
DANISH : Behennødtræ.
DUTCH : Benboom, Peperwortel boom.
FRENCH : Ben ailé, Ben ailée, Ben oléifère, Moringa ailée, Pois quénique.
GERMAN : Behenbaum, Behennussbaum, Meerrettichbaum, Pferderettichbaum.
HUNGARIAN : Lóretekfa.
ITALIAN : Been, Bemen.
JAPANESE :   マ ルンガイ Marungai,  モ リンガ・オレイフェラ   Marunga oreifera,  ワサビノキ Wasabi no ki, 


  Wasabi no ki.
PERSIAN :   درخت ترب اسبی
PORTUGUESE : Acácia branca, Moringa, Muringueiro.
RUSSIAN :   Моринга олейфера   Moringa oleifera, Моринга масличная
SPANISH :  Árbol del ben,  Arbol do los aspáragos,  Arbol de las perlas (Mexico), Arbol do los aspáragos, Babano del arbo, Ben, Jacinto (Panama), Jasmin francés, Jazmin francés (Puerto Rico), Maranga, Maranga calalu (Honduras), Marango (Costa Rica, Nicaragua), Palo de aceite ( Dominican Republic), Palo de abejas (Dominican Republic), Paraíso, Paraíso blanco (Guatemala), Paraíso de Espana (Mexico), Perla de la India (Mexico), Perlas del oriente (Mexico), Perlas (Guatemala), Resada (Puerto Rico).
THAI :   กาแน้งเดิง   Ka naeng doeng,  มะค้อนก้อม  Ma khon kom,    มะรุม  Ma rum (bean / pod),  ผักอีฮึม  Phak i huem,  ผักอีฮุม  Phak i hum (Phak eehuem),   ผักเนื้อไก่   Phak nuea kai,    ผักมะรุม  Phak ma rum (leaves),  เส่ช่อยะ  Se cho ya.
.
Our Moringa seeds packings
Similar products